Classes: IGCSE (Years 9, 10) & A Levels ( Years 11, 12)
Learning in our senior classes is rich and exciting with a positive learning culture. The program has been designed to provide our students with the perfect platform to reach their full potential and confidently step into the future that they have chosen for themselves.
Our senior sections follow the Cambridge Assessment International Education syllabus.
IGCSE (Years 9 & 10)
Ages: 14-16
While entering Year 9, students get to select their IGCSE subjects based on their strengths, interests and experiences from their junior level. Students must opt for 9 subjects for the IGCSE Course at The King's School.
The course has been carefully curated to engage young learners and give them the foundation needed to achieve high levels of academic and personal attainment. Most of the subjects offered involve a combination of both examination and coursework units, with practical work, fieldwork, research, oral and communication skills also contributing to the final grade at times.
IGCSE Subjects we offer:
Accounting
Biology
Chemistry
Economics
English – First Language
English Literature
Environmental Management
French – Foreign Language
Hindi – Second Language
History
Information & Communication Technology
Computer Science
Mathematics
Physics
A-LEVELS (Years 11 & 12)
Ages: 16-19
The A-Levels are a two-year program with examinations conducted at the AS (11th) and A-Level (12th) levels. Over the course of the two years we equip our students comprehensively, ensuring that they're well prepared for the next stage in their educational and professional lives.
These pre-college exams are recognized internationally and across India – which means that our students are qualified to write all international and Indian entrance examinations for entry into professional courses and are eligible for entry into all universities.
A-Level Subjects we offer:
Students are required to choose a minimum of 4 subjects (inclusive of English language) and a maximum of 5 subjects for the program.
English Language (AS Level only) (9093)
Biology (9700)
Chemistry (9701)
Computer Science (9618)
Information Technology (9626)
Mathematics (9709)
Physics (9702)
Psychology (9990)
Accounting (9706)
Business (9609)
Economics (9708)
History (9489)
English – Literature (9695)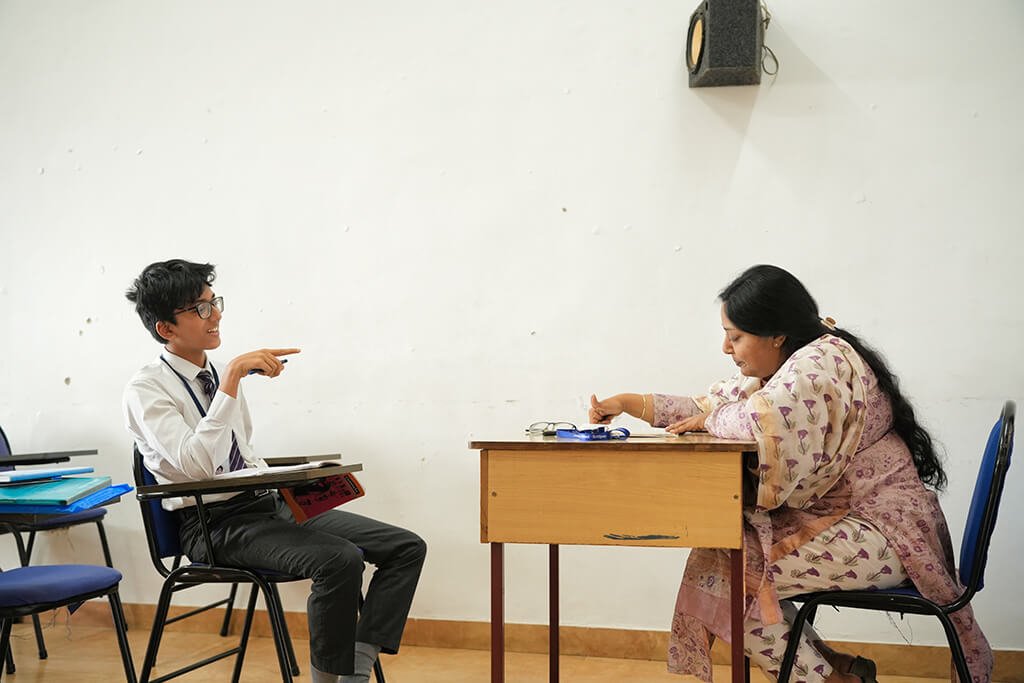 Assessments:
Being a Cambridge Assessment  International Examination Centre, we are authorized to conduct the IGCSE, AS and A-Level examinations at our school.
Our Cambridge International IGCSE examinations are conducted in the February/March Series, and the Cambridge International AS & A level examinations are conducted in May-June series.
Admissions
If you are keen to enroll your child in our high or senior school you can find more information