Classes: Play-class, Lower Kindergarten (LKG) & Upper Kindergarten (UKG)
Ages: 3 years – 5 years
 A child's early years have a massive influence on how they think, behave and approach life. Therefore, the degree of stimulation, guidance and nurturing determines whether a child becomes self-motivated and confident.
We believe that every child has a spark, and that it is vital for us to kindle that spark through love, care and encouragement – and that is exactly what we do at The King's Kindergarten.
What do we believe in?
The Holistic Development of Every Child
Integrated and Active Learning
A Supportive System Learning
A Student-Centered Approach
Learning through Interaction and Play
What are our classrooms like?
Carefully curated environments designed to stimulate multiple senses
Classes with student numbers optimized for maximum care and attention
Filled with innovative, effective and fun teaching methods
What do we teach?
English: We use Letterland, an internationally-acclaimed phonic system. The story-based approach helps children become proficient in reading, spelling and writing while having a fun time!
Numbers: We introduce them to numeracy and its basic applications such as learning how to recognise numbers, count, give value, add, subtract and so on, at a basic level. They'll also learn how to script numbers.
General Knowledge: We believe it's important for our children to start learning about the world around them and so they are helped to develop an understanding of the 'what, who, when and where' about the things around them.
Malayalam: We teach them how to begin scripting their mother tongue.
Auxiliary Subjects: With the holistic development of our children at the heart of our institution, we have a host of other activities such as Art & Craft, Physical Education, Music, Story-Time, Toy-Play-Time and other creative classes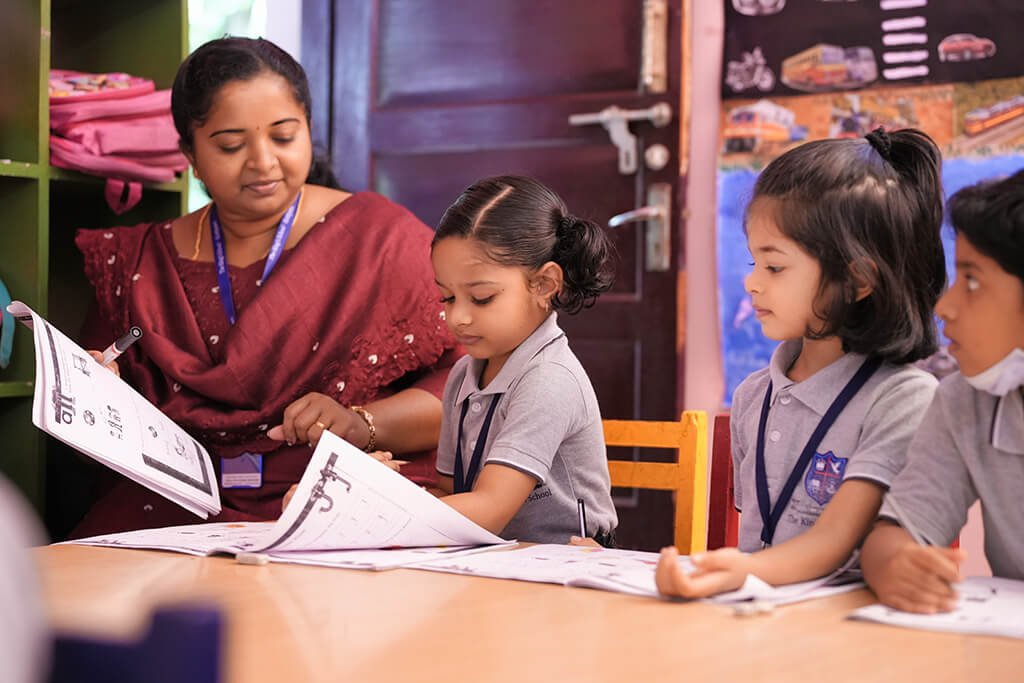 Do we have assessments?

We have simple and un-intimidating, formative assessments on a weekly basis
What are our goals for each child at completion?
To know how to read, write, and spell
To write numbers and learn its applications
To speak with clarity and listen with understanding
To know more about the world around them
To have aided in their social development
To strengthen their physical coordination
To have learned foundational moral principles
Admissions
If you are keen to enroll your child in our kindergarten school you can find more information